صوص الديمى جلاس كنور - عبوة واحدة صوص الديمى جلاس كنور - عبوة واحدة
---
---
Call Us +201200971111
Chat with us

Knorr Demi Glace
Knorr Demi Glace Sauce gives you the full flavor and aroma of a classic Demi Glace in five minutes. It's perfect as a base for your mushroom or pepper sauce.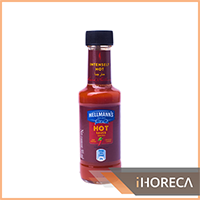 Have you Tried Hellman's Hot Sauce?
Hellmann's Hot Sauce is made with 60% Hot Pepper Juice and has natural Jalapeño flavor. Hellmann's offers Front of House and Back of House dressing solutions for your business.