شاى ليبتون فواكه بريه هرمى شاى ليبتون فواكه بريه هرمى
---
---
Call Us +201200971111
Chat with us
Lipton Juicy Forest Fruits Tea
Long majestic black tea leaves are hand-picked in Ceylon plantations. This stylish low grown tea has a deep burgundy color and robust flavor.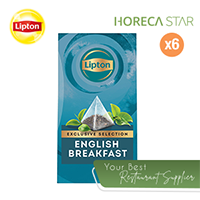 Have you tried Lipton English Breakfast Tea?
Lipton English Breakfast Tea is a full-bodied English Breakfast tea - savored by generations before us. It is the perfect accompaniment to the traditional English breakfast. It's a refreshing drink that is ideal both in the morning and throughout the day. Presented in Lipton's pyramid tea bags, which were designed for a better infusion of the tea leafs.