توابل دواجن كنور - عبوة واحدة توابل دواجن كنور - عبوة واحدة
---
---
Call Us +201200971111
Chat with us
Knorr Poultry Seasoning
Knorr Poultry Seasoning is an all in one spice and herbs mix packed with flavors suitable for a variety of Chicken dishes. Sprinkle Poultry seasoning mix on chicken pieces to suit desired taste before cooking, for best results add the mix to the meat half an hour prior to grilling.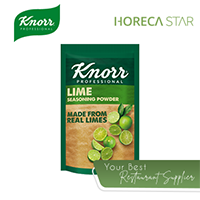 Have you Tried Knorr Lime Seasoning?
Knorr Lime Seasoning Powder is a versatile seasoning with the refreshing taste of lime, perfect for many food and beverage applications. The real sour taste and aroma of the best limes all year around. A 400g pack is equivalent to 6 kg of fresh limes.